Great service and reasonable charges. Many thanks.
If you are having issues recovering debts of your business then please feel free to contact us for a Free Initial Enquiry on 01629 56660 or make an Online Enquiry.
We would always recommend that you seek initial advice before bringing any claim for debt collection as there may be a more appropriate solution without court action.
Excellent communication and overall service. Prompt replies to all my emails. Thank you once again.
It is always difficult to assess the level of costs in a litigation matter. The costs vary massively depending on the cause of action. It will also depend significantly on the response and conduct of the other side. When you are against a litigant in person (someone representing themselves) it is generally more expensive than if you are against a business.
If a matter was to go all the way to a final hearing it will be more expensive than if they settle after the initial letter.
We have produced a break down to show a worked example of the costs incurred in a simple debt recovery litigation matter. This is for guidance only and should not be relied upon for the costs of a litigation matter.
If you are concerned with the level of costs involved, we can continue to a stage and then reconsider the costs and the prospects of success. Please note that once proceedings are issued then you may become liable for the defendant's costs if you subsequently withdraw.
If your debt is more than £10,000 you may be able to recover a proportion of your costs from the defendant.
This example is where your claim is in relation to an unpaid invoice which is not disputed, and enforcement action is not needed. This calculation is on the basis that no response is received, and we can request judgement on your behalf.
If the other party disputes your claim at any point, we will discuss any further work required and provide you with revised advice on the issue of costs.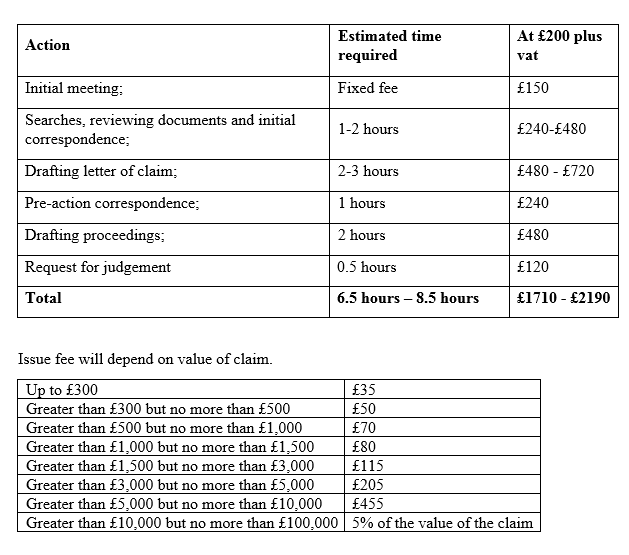 As stated above this is for guidance only on a simple matter. More complex matters will vary. We may also advise that barrister should draft the proceedings or seek advice from a barrister at a certain stage.
It is not possible to provide you with a definitive cost estimate for litigation matters as each case will turn on its own facts.
Please note that this is only the legal costs of Lovedays if you are unsuccessful in your litigation the court may order that you pay the other sides costs on top of your own.
Time scales
The timescale will vary dependant on the response from the other side and also how busy the court is. Generally, we would hope to have requested judgement in the example shown above within 3-6 months.
Fee earners
Mrs Jennifer Renshaw, Head of Litigation, charge out rate £215 plus vat per hour, admitted as a solicitor 2007
Mr Paul Streets, Litigation Solicitor, charge out rate £200 plus vat per hour, admitted as a solicitor 2015
If you would like to find out more about the fee earners then please click here.